Liam Agnew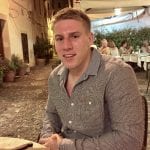 Liam is een gecertificeerde sport voedingsdeskundige bij de International Society of Sport Nutrition en is ingeschreven in het  Sport and Exercise Nutrition-register van de British Dietetics Association. Hij heeft een Bachelor of Science in Sport and Exercise Science en is afgestudeerd aan het ISSN Diploma in Toegepaste Sport en Exercise Nutrition.
Liam is een ervaren personal trainer die klanten helpt hun gezondheids- en fitnessdoelen te bereiken met praktische, op wetenschap gebaseerde oefeningen en voedingsadviezen.
In zijn vrije tijd deed Liam mee aan tal van powerlifting-wedstrijden en geniet hij van heuvelwandelen, voetbal en het uitbreiden van zijn receptenrepertoire in de keuken. Lees hier meer over de ervaring van Liam.